0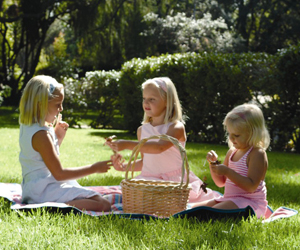 Escapeoften referred to as vacation does not need to be expensive, require hours in the car or involve airplane tickets. In fact, it can be as simple as a picnic.
I am fortunate to be the daughter of the Queen of Picnics. My mothers picnics were popular and beautiful, so much so that Vogue Magazine once came to photograph one of them. That particular picnic was an elaborate affair attended by extremely attractive people. I remember a lot of personal consternation over the outfit I was asked to wear, but the picnic itself was stunningly beautiful. Even at nine years of age and overwrought at the fact that I was being photographed for Vogue in the worlds dorkiest outfit, I could see that the picnic was something romantica moment apart from everything else. I could not help but have fun. There have been many picnics since that one where my attire did not matter and that were not at all elaborate, but were still romantic and a moment apart.
The art of the picnic is an easy one to learn and one that I highly recommend mastering. My mothers efforts have inspired me on many occasions and lead to many picnics that have proven to be a fun and easy way to have a brief vacation and escape with very little travel, cost or effort.
A great picnic involves 6 core principles:
A beautiful outdoor place far enough away from everyday distractions.
Enjoyable Foodeven leftovers are acceptable.
Something to sit upon, place upon and look upon.
A nice day with reasonably comfortable temperatures and outdoor conditions.
The ability to relax and enjoy.
Imagination and a bit of planning
Start with a small, simple picnic and build up to something bigger. Invest in a picnic basket or easily carried cooler. Dont forget a cutting board, eating utensils, napkins, (carefully wrapped) knives, ice packs to keep food items cool (and safe), plates, hand wipes, plastic glasses, a plastic or paper bag for any trash produced, and drinks. Choose a great location. It does not need to be far. A remote part of the garden or crashing the kids tree house will do. Some people really want a table, but to me that leaves the possibility that I might have to share the locale. A picnic blanket ensures that I can set up our picnic in whatever spot I choose. I like to bring an empty jar to stick a flower or two into as a centerpiece.
If traveling to a destination, take your time setting up the picnic and involve the kids in both the set up and the choosing of the perfect spot. The family debates over where the picnic should be are half the fun. If you are going on an evening picnic, think about something safe and pretty to light the dining area. I would be the first to say that teaching kids proper table manners is important, but picnics are a vacation from that too. Its perfectly OK for everyone to pick at their food and use their fingers on a picnic! You can even lie down when you eat! You can fall asleep with a book at the table, as long as the kids are safe. After all, its a picnic! Relax and enjoy.
[AUTHOR: Hilary Doubleday]
July 4, 2015PCHD