0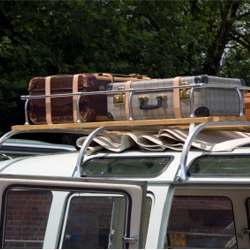 When I lived in San Francisco before I had children, I never once visited Alcatraz Island. When you live in a place that attracts tourists, you learn to eschew places where tourists congregate. I avoided San Franciscos Fishermans Wharf like the Plague. A couple of years ago I was in San Francisco for a long weekend with my two daughters and they wanted to visit Alcatraz. My younger daughter had just read a book called Al Capone Does My Shirts by Gennifer Choldenko, a book about the child who grows up on Alcatraz Island. Now that I did not live in San Francisco, I guess we could go.
Positive that I would not enjoy it, but inspired by my daughters interest in the island, my husband and I bought tickets. The day of our visit was a gorgeous, crisp and clear San Francisco spring day. The views of the city were fabulous as our boat left the dock for the island. Once on the island, my daughter was our tour guide for part of the visit. There were stories I had heard aboutlike the ones about the famous Birdman, Machine Gun Kelly, and James Whitey Bulger. Their stories were fascinating. I was actually enjoying myself! I kicked myself for not visiting earlier.
Kids are a perfect reason to do things that we have put off or resisted. I still consider San Francisco home even though I do not live there anymore, and my daughters forced me to be a tourist in my own town. It felt great to increase my depth of knowledge about a place that I thought I knew well. This summer, consider forgetting that you already know about your own town and visit it as if you were a tourist. Put your pride aside and do what the tourists do. There are probably museums, nature excursions, buildings or places of historical and cultural interest within easy driving distance of your home. They might be the very reason that your town is where it is. A visit will help you to feel an enriched understanding of your own environment. Your children definitely will understand their local roots better. Another great part? After your big day touring, you get to sleep in your own own bed that night and there is no particular compulsion to buy the t-shirt.
[AUTHOR: Hilary Doubleday]
July 2, 2015PCHD