1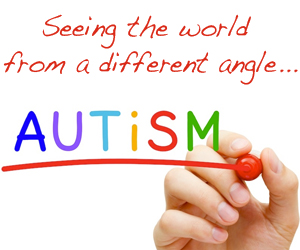 Learning to live with the diagnosis and making every moment count Sarah Rasmussen is many things. She has many labels. Mother. Wife. Entrepreneur. Exercise Queen. Health Nut. Super Mom. Every day, the one that bounces around her brain like a 4-year old with a face full of neon blue icing from a birthday cake is Mother of a Child with Autism. Maybe its because April is Autism Awareness Month, of which she is all too aware, thank you very much.
What does that even mean, to actually be the mother of a child with autism? That depends, really. Depends on you, depends on your kid, depends on the day, the moment, the position of the moon, or how the stars are aligned for all we know.
Right now, for Sarah, it means she has to overthink little things that most might not think twice about. It could mean she cant go to a movie theater because the ambient noise and sensory overload might make her son go ballistic.
It might mean she expects him to eat sand and PlayDough whenever its in reach. It might mean she knows how to execute the hold that keeps him from hurting himself or someone else when his meltdowns get out of control. It means play dates sometimes arent really an option and unfortunately, it also means being met with comments from people who are insensitive at best.
For someone else, being the Mother of a Child with Autism might mean something totally different. If you know one kid with autism, then well you know one kid with autism and thats it.
Being the mother of a child with autism is hard. Some days, Sarahs heart could break a dozen times before breakfast. Some days she could get bitten, scratched or screamed at. She could go weeks and months without the spontaneous hugs or an I love you mommy that other mothers take for granted. She doesnt feel sorry for herself or her family, and she doesnt think her child needs to be fixed because he is not broken.
He needs a different level of support and understanding from her and from the rest of the world, but he is who he is weird, wild and wonderful and that has played a role in making Sarah the wonderful woman she is today. The mother she is.
Sarah is stronger, tougher and more determined as a result. She also is more patient, flexible, compassionate and grateful for the little things than she ever could have imagined. She is, among many things, the mother of a child with autism. Although the average person might give a tight-lipped smile or a nod of their head when they hear that because they saw an episode of Parenthood or Doctor Oz, no one except Sarah really knows what that means to her and her life.
My advice to everyone out there is very simple. If you see a mother having a hard time with their child while they are out in public, dont judge them. Dont turn up your nose and say My child would never act like that! Simply make an effort to say to her Hang in there, Mom and keep walking. I guarantee she will feel almost hugged by the inclusion of that statement and whether that child has autism or they are just having a meltdown, you gave that mother the little push she needed to help get her through it.
1. When was your child diagnosed with autism and what type?
Aidan was diagnosed at 2 years and 10 months, on July 20th, 2012. He was considered to be high functioning by his evaluation team based on his problem-solving skills, no cognitive delays and much of the feedback I provided them. He had significant speech/communication impairment and was behind in social skills.
2. What was your initial reaction?
My initial reaction was complete denial. After a monthlong evaluation, I walked into that last meeting confident they were going to tell me it was just a speech delay and a possible auditory sensory processing disorder. I thankfully had brought along my Dad to the last meeting (my husband was on speaker phone because he had to work) because after they dropped the bomb on me, I could barely concentrate. My Dad was able to relay everything to me during the drive home. I cried a little, but afterward, I immediately went into attack mode and started making a list of everything I needed to do.
3. Were there any specific characteristics/behaviors that you noticed in your child?
Aidan hit every milestone as an infant and was delightful from the very beginning. He was almost too easy of a baby. However, my first inkling that something was different was around 15 months Aidan wasnt interested in playing on the playground like other children his age; instead hed meander off toward the parking lot. I brushed it off as being curious and an explorer. The next thing I noticed was his lack of spontaneous communication. He would repeat anything I asked him to say, but he never tried to talk to me on his own. Around 18 months, he started walking on his tiptoes a lot (sometimes associated with spectrum disorders), and he still was not talking. I knew something was very wrong when I took him to the park one day at age 2.5 and another child, 6 months younger, was having a full on conversation with his grandmother. Aidan wasnt even close to doing that. He also was doing lots of ear covering and began to completely reject foods he had always enjoyed. He also was completely obsessed with the alphabet and counting.
4. What do you find most difficult about raising a child with autism?
The uncertainty of the future. Lots of children with autism get better and even recover and lose their diagnosis. Lots of children do not. Im doing my best to make sure he is getting everything he needs to be at his very best, but I worry a lot about the future. I want him to have a normal, wonderful life with friends and activities he loves. I want him to learn to drive at age 16, go to college, get married.While Im fairly certain he will do all those things, there is always fear that he will be challenged more than the average kid. I want him to have the resilience and drive to keep pushing. He is still so young. Sometimes I wish I could see what things will be like at age 16. Where will he be?
5. How did your family deal/cope with the autism?
My extended family was/is awesome. They are very supportive, uplifting and optimistic. My husband took the diagnosis very hard and is still very angry, but we deal with things very differently and it takes longer for him to recover from big blows like this. He would do anything for his children, and he will sacrifice anything to get Aidan whatever he needs to succeed.
6. How did it affect your life?
I have a whole new focus and passion in my life; I didnt know much about autism before my own child was diagnosed. Now, I cant get enough information. I have a great support system among the other parents and families at Aidans school. I feel like my friends and family have a better understanding and awareness of autism spectrum disorders now because of my involvement, and they too will pass on their knowledge to others.
7. Has your child made any progress with his autism?
YES! While still behind, Aidan can communicate with me in two- or three-word phrases and can ask in detail for what he wants. His meltdowns are getting farther and farther apart, and he can follow direction much better. He loves other children, seeks play with others and is very affectionate and sweet to his younger brother, Shane, who is 4 months. He has a passion for spelling, reading, writing, and counting. Im hoping he will be great at math, which would be ironic since Im terrible at math.
8. What advice can you give to other parents raising a child with autism?
Find support and find an outlet for relieving stress. Mine is running. Im training for my first half-marathon to run in dedication to Aidan. Get involved, get educated and be your childs biggest advocate.
9. What have you learned about raising a child with autism?
Ive learned a lot about myself that I am the rock for my family. I learned that with enough pushing and determination, I can get anything done. I learned that in the chaos of insurance woes and state funding, no one is going to hand you everything your child needs on a silver platter once you have a diagnosis; you have to advocate, be assertive and advocate some more.
10. What do you think is the most common misconception about autism?
That autism has a general look. The reason they are called spectrum disorders is because autism can be very different for one child versus another. I have a large group of fellow parents of children with autism, and while our children have some similarities, all of our children are very different. The saying If you know one child with autism, then you only know one child with autism is a very true statement. Some do better socially than others, some are verbal, some are not, some have sensory issues and some do not. Therein lies the biggest frustration with autism treatment. It is not one size fits all, and treatment plans are tailored to fit the child. It can often take a great deal of time to find out what motivates and aggravates a child with autism.
March 12, 2015pcaja
One comment
Vince

says:

March 27, 2015 at 2:21 pm

I can relate to many of these experiences and frustrations. My son is now 12 years old and had a similar presentation at diagnosis. My wife was crushed. She really never recovered emotionally, having a nervous breakdown 4 years ago and becoming a candidate for a mental institution in a nearly catatonic state.

There is hope. The food allergies have deminished and he is now mainstreamed in school. This was done with tough advocacy as you described, speech therapy and intense behaviorial training such as IBI. If anything comes up, you can usually reason with him. My son fortunately does not place on the spectrum as yours, so I would only describe him as eccentric a lot like his father.

I can only believe in a better life for him, characterized as normal; but prepared for a setback. Having the challenge as a single parent with an average younger daughter and sick wife can be daunting. Best Wishes!