0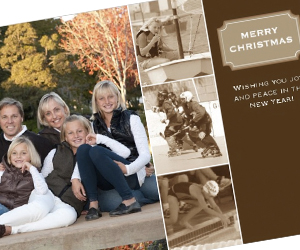 It seems that once Halloween is over, we fast forward to the holidays which for many means a lengthy to do list that includes ordering holiday cards. I love this time of year because when I go to my mailbox, I find cards instead of bills! Facebook and Instagram are great for keeping up with friends but it doesnt replace the wonderful tradition of cards. I look forward to everyones family photos and recaps of their year. The part that causes me anxiety though every year is putting together my own familys card and finding the perfect picture.
GETTING THE PERFECT FAMILY SELFIE
I dont know about you but I find that most families have one parent that becomes the photographer and that parent is rarely ever found in any of the family photos. In my family, I take all the pictures. I love it, however I am a little disappointed each year when I look through our online albums trying to find a picture for our card only to find that my family does not appear to have a mom. We have hundreds of pictures from family vacations, events, sports and I am not in any of them. This is why we seem to always be looking for a professional photographer every November. I drag my husband and kids to the photo shoot and always question whether it is worth the hassle and the expense until I get my pictures back. I love the fact that we at least have a photo history of our whole family each year (mom included) that we can reflect back on.
ORDERING CARDS
Plan ahead so you have time to put together the perfect card.Do you use a professional photographer or candid shots? Do you order cards online or at a local store? Do you hand address your cards or go with the printed labels that are much more accepted than they used to be? Whatever you decide, now is the ideal time to plan for it so you dont stress about it closer to the holidays.
A FEW TIPS
Decide whether you need a photographer & schedule a photo shoot. Make sure to ask whether you will be able to use the image for a holiday card. Decide where you want to have your cards made (Shutterfly, Costco, TinyPrints). Decide on a message for your card and whether you want to include a letter. Buy stamps early so you are not waiting in lines. Make a list of everyone you want to send cards to and update your addresses (and dont take people off the list just because they didnt send you one last year remember the holidays are about giving).
Plan ahead so you have time to put together the perfect card.
November 2, 2015pcaja