0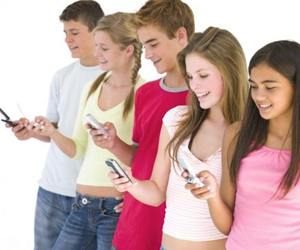 Nowadays tweens and teens have access to the Internet everywhere they go. They own or use several devices that grant them online access: smartphones, tablets, console games, desktop, and laptop computers. How teenagers use the Internet changes in a fast pace. And, sometimes, it can be overwhelming for their parents to understand what their kids are doing while they are connected to their technological devices. It is easy to get lost in this fast changing world, and to feel you are not able to protect
your kids anymore.
Even though it is not possible to fully take control over this situation, the key is a face-to-face conversation with your teens. Take a deep breath and think about how you would protect yourself online. The precautions you take when you connect are the same ones your kids should be aware of in order to surf this world safely.
These are two essential elements for a fruitful talk:
Parents need to understand the virtual world their teens live in.
Teenagers need to understand why is important to protect their online life and how to do it.
Therefore, it is necessary to check out and explore where your kids hang out online. Here are some of the most popular social networking sites chosen by teens. Educate yourself on what are they used for, how they work, and how to manage the privacy settings. Utilize these social networks yourself; it will help you understand them better. Then, when talking to your kids, you will realize you are able to speak their same language.
Facebook
Facebook is still the most popular network used among teens. They use this platform to post messages, videos, and photos. There have been a lot of safety problems because Facebook changes their privacy policy in a high frequency. Thus, it is required to check the new rules periodically, and update the privacy settings accordingly to avoid sharing private information to everyone.
Instagram
Instagram is a social networking site that allows teens to share photos and short videos instantly from their smartphones to their followers. The main issue is that some people use this media app to post illegal and inappropriate content. Then, your teen needs to be selective on whom to follow.
Snapchat
Snapchat is used by teens to send photos and videos to their chosen snapchatters. Every message or snap sent through this app is automatically deleted after a few seconds that are previously determined by the senders. Its users can also post their snaps in their Story allowing their friends to view them an unlimited number of times for 24 hours. The main concern is that some teens use it to exchange nude images, and although they will be deleted from the recipients inbox, there are many ways viewers can capture them before they are erased. This app creates a false sense of security within its users, which encourage them to
publish things they would not share otherwise.
Twitter
Twitter is a microblogging platform where users share their tweets. Those are messages up to 140 characters in length, which are public by default. Teens follow their friends, favorite celebrities, and other people. And, they can be followed by anyone if they not change their privacy settings. The problem of using this platform is that some teens use it to bully one another.
Once you have learned more about where your kids spend their virtual life, it is time to make them be part of the conversation and have an open talk about safe social media strategies.
It is crucial to let teens actively participate in the conversation, asking them about the reasons behind joining each particular social network. It will help you understand them better and they will know you are on their side.
Make them aware that all the information, photos, videos, and comments posted online will be there forever, although they will delete them later on. That content can affect their present and future relationships with friends, family, teachers, and prospective employers. Before sharing any information, you can suggest them to ask themselves:
Would it be OK for my family, teachers or future boss to see this?
Would this content hurt anybody I know?
Those questions will help them not to share inappropriate photos or comments that might damage their own image. And, it will also prevent them to practice cyber bulling if posting offensive information about others.
Another basic fact they should know about is that everything published online is public. There are many ways to access and store it over the years. Thus, it is important to help them understand and set their privacy settings in each one of the media platforms they use. This will allow them to control the information they share as much as possible.
And last but not least, plan a strategy with them on how they should behave to avoid being cyber bulled, or approached by people they do not know in real life. Also, talk about how to handle people, including those who they personally know, who ask to exchange sexual conversations, photos and/or videos.
Having an initial conversation followed by small talks from time to time will help parents and teens to openly discuss any issue that might arise from being present in social networks. As said earlier, there is no possibility to control it completely. Therefore, the best way to approach it is by learning and sharing the information as a family.
[AUTHOR: Illa Llinares,Teen Life & Career Coach,www.itacacoaching.com]
July 24, 2015PCAH