Choosing the Right Preschool for Your Family
2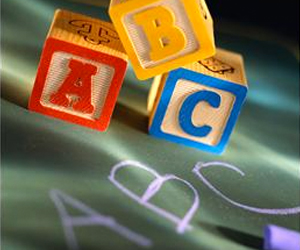 Academic vs. play-based, child centered,. teacher led, structured, parent co-op, religious, half day, full day…
Choosing a preschool isn't easy. There is so much written about how to choose a pre-school – academic vs. play-based, child centered vs. teacher led, structured vs. free-play, parent co-op vs. no classroom volunteering, religious vs. secular, half day vs. a 40 hour a week program.
It's overwhelming and can be very confusing. What's best? How do you know what is going to work for your child and family, especially if you are looking ahead and your child isn't even 2 years old yet? And what happens if the preschool you choose doesn't work out? How do you finda new one? And where on earth are you going to find the money for preschool??
See… tough decisions.
Luckily Santa Barbara has quite a selection of wonderful preschools that take into account every need and budget.
So let's start with the different types of preschools:
Parent Co-Op Preschools: there are four Parent Co-op preschools that are overseen by SBCC in Santa Barbara and Carpinteria. A parent co-op requires heavy parent involvement (one morning a week plus one evening meeting a week), however the tuition tends to be very low. Most co-ops are only half-day and end at noon. This can be an excellent choice for a family that has a stay at home parent and is looking for socialization and light classroom structure, but it doesn't work for a family needing full-time care.
Creative & Play Based Preschools: these preschools generally focus on socialization, with creative expression in art, dramatic play and physical activity. Preschools in this category can include schools like Waldorf and other preschools with a "natural environment" philosophy, home-based daycare, and parent-child co-ops. Enrollment is generally open throughout the year and schedules can range from half-day, 2-5 days a week, to 40+ hours per week coverage for working parents. Tuition can be lower than the academic preschools, but not always.
Religious Preschools: there are several very fine religious preschools in the Santa Barbara area. Check with your church or synagogue to see what program they offer. Most religious preschools do not require you to be a member of their faith or participate in their church or synagogue in order to enroll. As long as you are comfortable with the religious teaching that is presented, this can also be a very good solution.
Academic Preschools: there are two different styles of academic preschools. The first is intensely academic and may remind you of Chapman Academy in the movie Daddy Day Care – very young children sitting at desks and spouting Latin and Homer (not Simpson). The second has child led, teacher-designed environments that include creative learning and play, socialization, like Montessori and Reggio Emilia. This encourages children to be curious about their environment and learn from it. Within these frameworks children learn at their own speed and if they are ready for "advanced" learning, they can leave preschool reading, writing and able to do simple math. Tuition for these preschools depends on the schedule you choose, and there can be a waiting list for enrollment. It's wise to tour these schools and get on the waiting list if you are interested in enrolling.
Once you've decided on the style you are interested in, the next step is to start contacting preschools.
DO YOUR RESEARCH…
Talk to people you respect and trust and see where they've gone and what has worked for their families – and why it's worked (or didn't work).
Check on www.ParentClick.com for a list of preschools.
Get a list of preschools and home day-care providers from Children's Resource and Referral (http://www.sbfcc.org).
Google search for preschools.
Look on the preschool websites for what's important to your family:
Daily schedule
Annual schedule – not all preschools are open year-round
Focus of the school
Teacher credentials: where the teacher's received their credentials and how long they have been teaching.
Teacher turn over rates – look for low turn over, unusual employee turnover may indicate a systemic problem.
Teacher/Student ratios: State parameters are 1:6 for toddlers (ages 2-3) and 1:12 for preschoolers (ages 3-6)
Tuition rates & discounts: Tuition varies greatly, depending on the program and where the teacher's received their credentials. The highest tuition rate doesn't always guarantee a quality program, just as a low tuition rate doesn't mean the program isn't a superior one.
Interview schools: take tours; bring your child on the tour when you can so you can see how your child responds to the environment. Ask your important questions; ask the preschool what makes it different from other schools, ask about ratios, schedules, how discipline is handled, how disagreements between students are handled, what discounts are available (sibling, multiples, etc.)

The most important part of this equation is your child. The preschool you choose should work best for your child. His or her temperament, personality, learning style, and strengths matter. You also need to decide what your goals are for your child's preschool experience, and if you trust the staff that will be caring for your child. When you believe in your choice of preschool, your child will be more confident and adapt into the rhythm of preschool more easily. What works for your family may be different from what worked for someone else's family. Don't be afraid to buck the neighborhood trend and get what you really need.

If your first choice doesn't work, make sure your second choice is a better fit by learning from what didn't work the first time. (Be careful of switching too many times – this can cause issues with adaptability, separation anxiety and can be very stressful for your child.)

Good luck with your search, it's never too early to start looking for a good preschool!

[AUTHOR: Felicia Danon North]

January 18, 2016pcaja